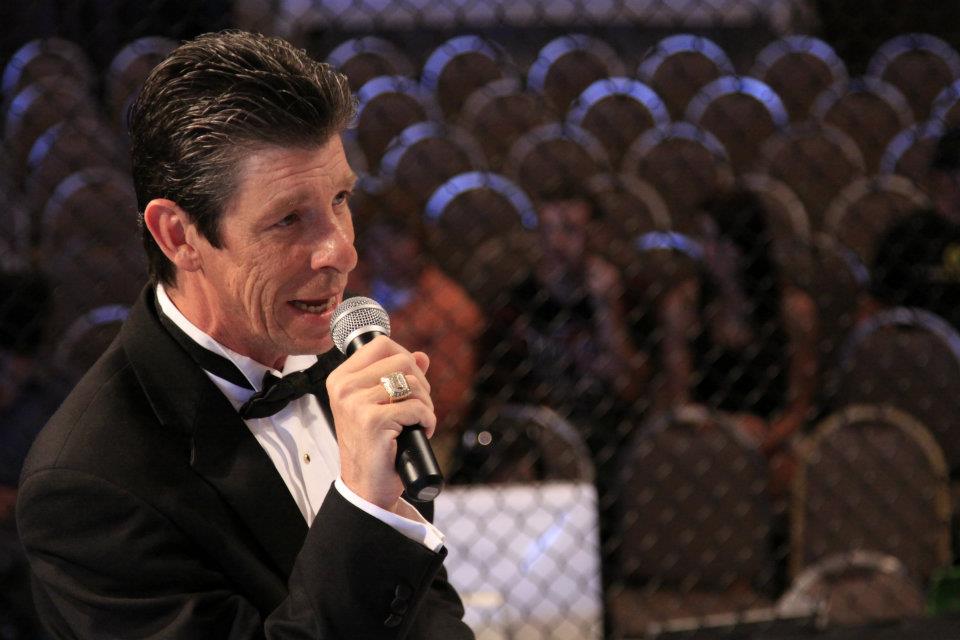 JIM FITZGERALD BIO
Jim FitzGerald, known as "FITZ", has been involved with boxing for over 30 years. He began selling tickets in 1986 to the Boxing shows that were held at the Fabulous Forum. By 1988 he was the Director of Season Seats for Forum Boxing, Inc.
As the Season Seat Director, he had the pleasure of meeting and becoming friends with Famed Ring Announcer Jimmy Lennon Jr. Fitz had the opportunity to learn from Lennon by watching and listening intently.
On an early November morning Fitz was asked if he could substitute for the Legendary announcer, and was honored that he was asked to attempt to fill his shoes. Without hesitation Fitz jumped at the chance.
Since that day, Fitz has announced Professional Boxing, and MMA Events at the Historic Grand Olympic Auditorium, Las Vegas Tropicana Hotel, Fabulous Forum, Magic Casino in Biloxi, Mississippi, Key Club on the Sunset Strip, Commerce Casino, HP Pavilion among many other venues. Fitz announces regularly at the Quiet Canon on the grounds of the Montebello Country Club and also at the Citizen's Business Bank Arena. Since 2000 he has announced the annual "Born to Fight" events held by Cung Le in San Jose, Ca.
Among the fighters Fitz has had the pleasure to announce, are Former Heavyweight Champion Larry Holmes, "The King of the 4 Rounders" Butterbean, James "Lights Out" Toney, Cung Le, Chris "Nightmare" Arreola, and Jaqueline Frazier the daughter of the Former Heavyweight Champion "Smokin" Joe Frazier.
Fitz has been seen announcing the fights on several broadcasts. He has announced on ESPN2, UPN Channel 13, and Buena Vision. Fitz has also announced the fights on Pay-per-view events and on many cable stations.
For several years he has donated his time to Emcee the California Boxing Hall of Fame Banquet, West Coast Hall of Fame Banquet and this year was Co-emcee for the World Boxing Hall of Fame Banquet. He also donated his time to emcee the WBC toy drive to benefit needy kids in Los Angeles.
Fitz has been cast as the Ring Announcer in the motion picture "DAREDEVIL" (2000) as well as being cast as the Ring Announcer for Apple Computers in the "Get a Mac" campaign. He has also been cast as a Ring Announcer on the Cant Lewz Entertainment television commercial.
Fitz has been making a living off of his voice since he was seventeen years of age. He has been doing voice-overs and boxing highlight films, but his claim to fame was becoming the PA Announcer for the Great Western Forum announcing the Los Angeles Laker games in the early 90's.
With his distinctive deep voice and his "HEEEEEERE WE GO!" Fitz is recognized as one of the top boxing announces today. He has been compared to the likes of the "Let's Get Ready To Rumble" guy, Michael Buffer, but Fitz will be the first to tell you that he has created his own unique style announcing the fights